Adjustable tall Pneumatic Range of Motion Walker Boot Braces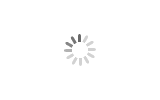 Adjustable tall Pneumatic Range of Motion Walker Boot Braces
Huakang Ortho

Xiamen, Fujian, China

30-45 days

Twelve 40' containers per month
Air Fracture Walker Boot Foot Orthosis/ ROM walker boot
Available in 11" and 17" height
Color: Black
Customized service: accepted
Business type:manufacturer,exporter
Brand: Huakang ortho
Product Origin: China
Shipping Port: Xiamen,China
Lead Time: 45 days
Certification :FDA, CE, ISO13485
Service: OEM, ODM
Logo: as your requested
Private Label: as your requested
Pakaging: 1polybag /pc or customized color box
Samples are available for testing
NO.: WK009
Product Details:
Description:
1. Rocker bottom and low profile heels facilitate more natural gait pattern.
2. Soft foam liner for great comfort to the patient.aluminum reinforced uprights for better fit and stability.
3. ROM settings between 45palantas-flexion and 300dorsi-flexion in 7.50increments.
4. Uprights will lock in fixed position of 0°, 7.5°, 15°, 22.5° and 30° planar and Doris-flexion.
5. Adjustable air cells increase stability and compression while decreasing pain and swelling.
6. Hook and Loop closure for easy of application.
Features:
1. Plastic shoe shell, good protection for the foot.
2. Corrugated rubber foam sole with good anti-slip effect.

3. Stamped aluminum bar, aluminum bar fixed support effect.

4. Steel plates with holes form adjustable hinges, making the angle of the bolt-type adjustment convenient.

5. The inner lining uses soft sponge cushion to bring comfort to the feet and legs

6. Contains a double layer of airbag padding to pressurize the affected area and reduce leg swelling

Indications:
1. Fixation after tibial and fibular fractures
2. Ankle sprains and strains
3. Calf ligament strains
4. Soft tissue injuries of the lower leg
5. Post-operative rehabilitation fixation of the leg
Available in 11" & 17" height
Size:XS /S/ M/ L /XL
Size
US size for women
US size for men
XS
4.5-6
1-3
S
6

-8

3-7
M
7

.5-11.5

6

.5-10.5

L
1

0.5-13.5

9

.5-12.5

XL

above 13.5

above 12.5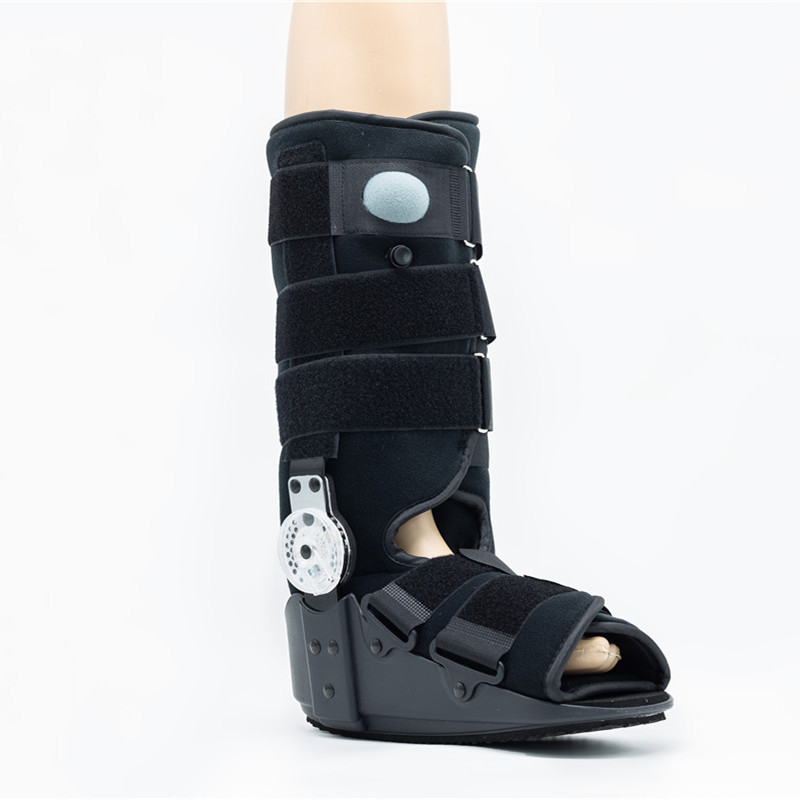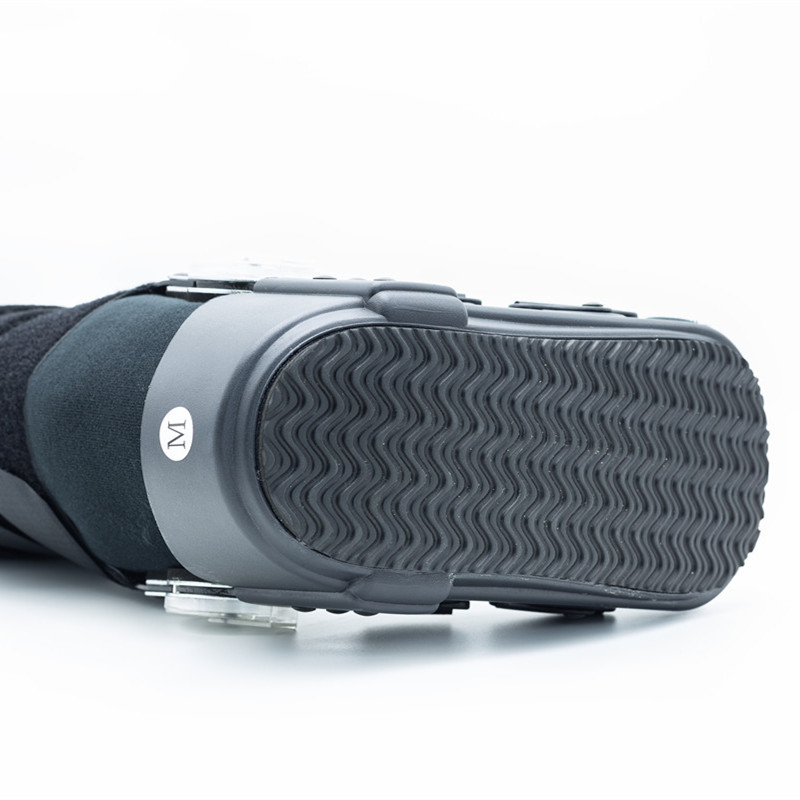 Packaging Details:
PE bags of 3 types: zip lock, seal, sticky
High quality cartons: 63*42*48cm or 57*36*42cm, other sizes can be customized
White box & Color box are customizable with extra charge
All the details of the package can be customized
Packaging cartons: